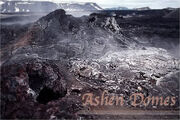 The Ashen Domes are at the very northeastern corner of the Valley, where they cover a swath of mostly level ground extending from the base of the gentle Ochotona Mountains and stretch on towards the coast of the Ferral Sea. Despite being prone to the sweeping winds coming in from the ocean to its east, and being one of the northern most areas, the Ashen Domes are easily the warmest place to be in Sparkling Creek Valley, especially during the winter.
The Valley is well known for its geothermal systems, and those are most obvious here at the Domes. This is the point where lava can be seen bubbling up from fissures in the earth and running through deep crevices on their way to the sea. Geyers, hot mud pools, and domes billowing steam are other features that make this place very distinct from the rest of the Valley, and can offer creatures a respite from the bitter cold winters.
Further down from the Ashen Domes, following along the edge of the Ochotona Mountains, the Eskers can be found. Directly south is the small canyon system that makes up the Azul Canyon and Golden Rose Canyon areas.
Noteworthy Residence
Edit
Harrow tends to spend much of his time in this area.
Community content is available under
CC-BY-SA
unless otherwise noted.