Name:
Cortinarri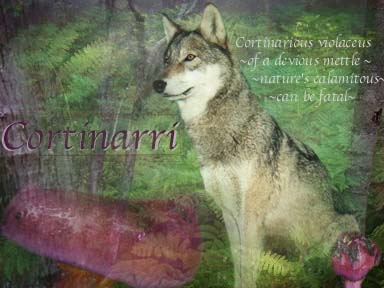 Gender: Female
Sire: Unknown
Dam: Unknown
Breed: 100% Gray Wolf
Date of Birth: December 23rd, 1998
Date Entering the Valley: December 24th, 2001
Date of Death: N/A
Description: She is mostly a grizzled mix of soft grays and medium tans, with a white throat patch and amber eyes.
Offspring: Isias, Starscream, Sylar, Valian
(coming soon)
Relations
Edit
After making her home in Sparkling Creek Valley, Manov was her first true love. Years later, it was Vestige that she settled down with to start a family, and she remained with him until his untimely murder in 2007.
Cortinarri had one daughter with her upon arriving at Sparkling Creek Valley, and years later, she produced another litter with Vestige. Of that, she had two sons and two daughters; Sylar, Isias, Starscream, and Valian.
In earlier days, she rescued and adopted two abandoned pups named Amber and Charcoal, though their whereabouts are currently unknown.
To this day, Namir remains her best friend and a trusted guardian.
Community content is available under
CC-BY-SA
unless otherwise noted.