Name: Legosa
Gender:
Male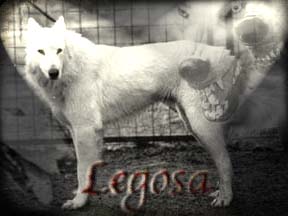 Sire: Unknown
Dam: Unknown
Breed: 50% Akbash Dog, 12% Kuvasz, 10% Gray Wolf, 10% Belgium Tervuren, 10% Lurcher, 8% Azwakh Hound
Date Of Birth: Unknown
Date Entering the Valley: 2003
Date of Death: N/A
Description: All white, with a thick dewlap, muscular build, and overall look of the Akbash Dog. His ears however, stand straight up, and his muzzle is more reminiscent of the wolf. Pale yellow eyes.
Littermates: Unknown
Offspring: Atticus, Boulderdash, Channentile, Dark Era, Destroying Angel, Devine Beauty, Faute, Grim, Harmalay, Hawkeye, Ice, Indigo, Laporta, Lost, Panther, Phelan, Ravenshou, Reaper, Sang, Scaria, Sweetclover, Teucke, Twisted, Twister
Other Relations: Turret (Half brother)
Community content is available under
CC-BY-SA
unless otherwise noted.