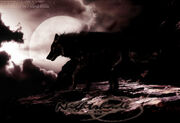 Nightshade was born to Kahvi and Honey in 2008. She is 62.5% Coyote, 25% Arctic Wolf, and 12.5% Gray Wolf. She grew up in the Sedge Creek pack with her father (Kahvi) and step-mother (Saydin), but was forced to leave when Saydin killed Kahvi. She now runs a pack known as The Night Watch in the Manahcob Downs territory alongside her mate, Failure.
She is currently the most wanted animal in Sparkling Creek Valley, with a bounty of $21,200.
Lineage
[
]
Date Of Birth: July 29th, 2008
Date Entering the Valley: July 29th, 2008 (Born in SCV)
Generation in the Valley: 3rd
Date of Death: N/A
Height: 42"
Weight: 190 lbs
Description: She takes the form of the gray wolf. Light yellow eyes.
Littermates: Allium, Cocaine, Crocus, Diantha, Kalanchoe, Lazer, Missy, Psychotic, Tazer
Offspring: Alayla, Alik, Astra, Aykay, Bruin, Chanamene, Epsilon, Morgan, Orion, Shiv, Sirius, Sniper, Snow Angel, Sturmgewehr, Tison, Vodka, Volki, Stillborn, Stillborn, Stillborn, Stillborn, Stillborn
Identification: HC28